The Pittsburgh Chapter of the Democratic Socialists of America seeks to facilitate the transition to a truly democratic and socialist society, one in which the means/resources of production are democratically and socially controlled.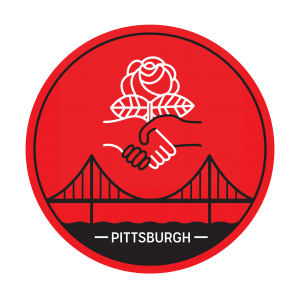 Democratic Socialists believe that both the economy and society should be run democratically to meet human needs, not to make profits for a few. We are a political and activist organization, not a party; through campus and community-based chapters, DSA members use a variety of tactics, from legislative to direct action, to fight for reforms that empower working people.
Learn more about the Pittsburgh DSA here.
---
---
Land Acknowledgement
We would like to acknowledge that we organize on the traditional ancestral lands of the Haudenosaunee and primarily the Onödowa'ga:'
We pay our respect to the elders both past and present, who have stewarded this land throughout the generations. We recognize and honor them as the past, present, and future caretakers of this land.
This land came under the control of the current settler state, known as the U.S.A., through genocidal military campaigns and an ongoing occupation. with the Treaty 1794 codified the violent dispossession and systematic removal of the Haudenosaunee nation and societies has led to the current situation, in which the Onödowa'ga:' people reside on a small portion of land ceded to them by the colonial government of the U.S.( within the borders of what we know as the States of Pennsylvania and New York). It should be noted Pennsylvania's portion lies under water due to Kinzua dam. The Onödowa'ga:' people fought to stop the project all the way to the steps of the Supreme Court and lost the fight.
Decolonization of Native lands is not a metaphor. Decolonization means land repatriation. It is a project that as socialists we support in order to achieve reparation justice.